Page
Important Please Read: Must Opt-in to Digital IDs
Hi NC Students!
We are excited to announce our partnership with ID123 and begin the launch of our new DIGITAL NC ID Cards! You have already received an email from "Digital ID Card App"
This e-mail is NOT Spam or Junk- it is your unique (specific to you only) link to access the template for your new NC Student ID Card. It will look like the below: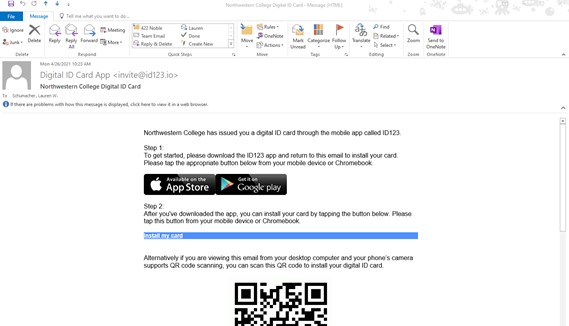 Having the NC digital ID will be mandatory to obtain entry to campus starting July 1, 2021 prior to the start of the summer term.
When you receive the e-mail like the above example download the App and follow the very easy prompts outlined in this Document.
If you have any questions, please contact NC Digital ID's ncids@nc.edu

Last modified: Monday, August 23, 2021, 7:01 AM